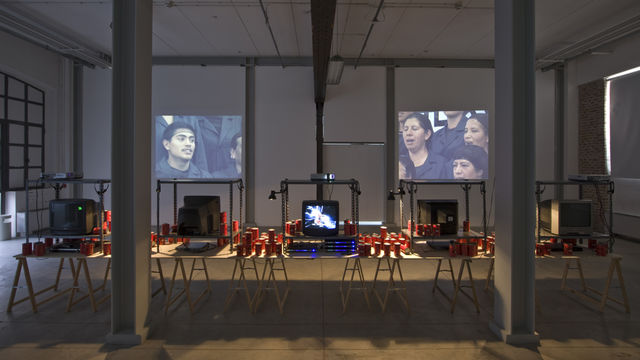 Biography
Yoshua Okón was born in Mexico City in 1970 and lives in Mexico City. He received his BFA from Conordia University in Montreal, Canada in 1994 and his MFA from University of California, Los Angeles in 2002. Okón's work has been presented in one-person exhibitions at Galería Gabriela Mistral in Santiago, Chile; Museo de Arte Carrillo Gil in Mexico City, Mexico; Armory Center for the Arts, Los Angeles, CA; Lothringer 13 - Städtische Kunsthalle, Munich, Germany; Galería Revolver, Lima, Perú; The Project in New York and Los Angeles, and Galleria Francesca Kaufmann in Milan, Italy. Okón has been included in numerous thematic exhibitions such as Surveying the Border, Getty Center, Los Angeles; Coyotería, Staatsgalerie, Stuttgart, Germany; Day Labor, PS1 MOMA, New York; Pantagruel Syndrome, Torino Triennale, Castello di Rivoli, Torino, Italy; Adaptive Behaviour, New Museum, N.Y.C.; Don't Call It Performance, Museo Reina Sofia, Madrid, Spain and Museo del Barrio, New York City; and Vidéos d'art du Mexique et des Etats-Unis, Musée d'art Contemporain de Lyon, Lyon, France. During his residency, Okón investigated the practices of artists on the Venice Boardwalk, bringing them into dialogue with LA's hermetic, professionalized art circles and Hammer visitors. 
The Hammer Museum's Artist Residency Program was initiated with funding from the Nimoy Foundation and is supported through a significant grant from The James Irvine Foundation.
Yoshua Okón's residency also received support from the Department of Cultural Affairs, City of Los Angeles Cultural Exchange International Program.