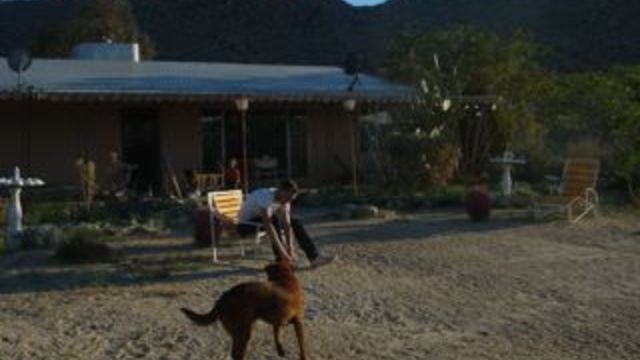 In the Spring of 2008 Shirana Shahbazi spent three months in Los Angeles with her husband and young daughter, exploring the region and its many natural collections. Her visits to the Los Angeles County Natural History Museum; to a number of UCLA's science collections including the Louise M. Darling Biomedical Library's History and Special Collections for the Sciences, the Donald R. Dickey Collection of Birds and Mammals, and the UCLA Herbarium; and to Joshua Tree, Kings Canyon, and Sequoia National Parks resulted in a new body of work, shown at the Hammer in late December of that same year. The installation combined still lifes, portraits of single figures and specimens, a majestic black and white landscape, and a pair of photographs: a close up of a rock face and a monochromatic photograph of a studio backdrop. Laid out carefully against a black wall, the installation formed a visual poem probing the nature of representation and artistic genre. This exploration emerged as the viewer explored the reductive images of a monochromatic backdrop, a single portrait, a natural specimen. Echoing throughout were art historical references, from Dutch painting in the instance of the portraits, to Ansel Adams in the black and white landscape from King's Canyon, and to vanitas paintings in the effusive and carefully constructed still lifes.
Working in Los Angeles, a mythologized and possibly overrepresented locale, gave the artist the opportunity "to think a lot about the essentials of my work" and to analyze distinctly American tropes. The iconic nature of Los Angeles and its uncanny ability to merge with its image provided a useful backdrop for Shahbazi's ongoing exploration of representation. She noted that "the whole town, the light, the streets, it felt just the way it looks. It makes so much sense in the context of all the well-known LA artists, it made it difficult for me to take pictures, because it just looks so much like LA, but that's also refreshing or inspiring. What I did most was just drive around and look at the town but at the same time I felt paralyzed." The snapshots that she did take, both in LA and on a "very American" RV trip, are shared here on the Hammer's website. Portraying everyday events and Southern California mythologies, these pictures bring to mind Shahbazi's earlier series of photographs of stereotypical images of Iran—photographs of what "people expect to see in Iran." Like that body of work, the pictures Shahabazi took in Los Angeles capture, in some deep way, the nature of her larger artistic project.
The Hammer Museum's Artist Residency Program was initiated with funding from the Nimoy Foundation and is supported through a significant grant from the James Irvine Foundation.