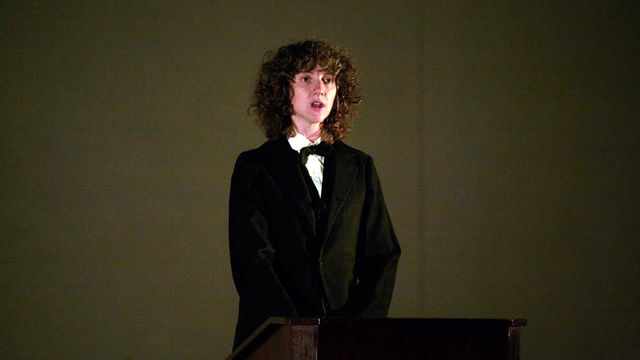 Ten days before the election of Barack Obama to the White House, the Hammer hosted artist-in-residence Sharon Hayes; Lincoln scholar, Huntington Fellow, and UCLA visiting faculty member Ronald C. White Jr.; and the UCLA and University of Southern California (USC) debate teams for a two-day event exploring the 1858 Illinois Senate campaign debates between Stephen A. Douglas and Abraham Lincoln. These debates brought Lincoln to nationwide attention, and even though he subsequently lost the election, he refined his ideas about slavery and the future of the United States during this seminal period, presaging the issues that would be at the heart of his successful presidential campaign two years later.
Conceived in collaboration with Julia Meltzer and her nonprofit arts and culture organization Clockshop, the residency culminated in a performance by Hayes, a lecture by Lincoln scholar Ronald C. White Jr., and a debate between the UCLA Speech and Debate Team and the USC Trojan Debate Squad on whether government should be primarily responsible for promoting social justice. Taken together, these three events provided a wide-ranging and timely exploration of debate, U.S. history, and government in the days leading up to the 2008 presidential election. During that time the media made frequent comparisons between Abraham Lincoln and then-presidential nominee Barack Obama, often referencing the 1858 debate.
The highlight of the events was the juxtaposition of Hayes's performance and White's lecture. Both of them covered the same material and were, in essence, performing. Seeing them together underscored two different approaches to history, truth, and representation and explored the potentially artificial separation of knowledge and interpretation into different disciplines, in this instance, history and art.
This residency gave Hayes an opportunity to explore her interest in how the past intersects with the present, as well as her interest in language, speech, politics, and rhetoric and how these modes intersect to shape our understanding of the world.
The Hammer Museum's Artist Residency Program was initiated with funding from the Nimoy Foundation and is supported through a significant grant from the James Irvine Foundation.