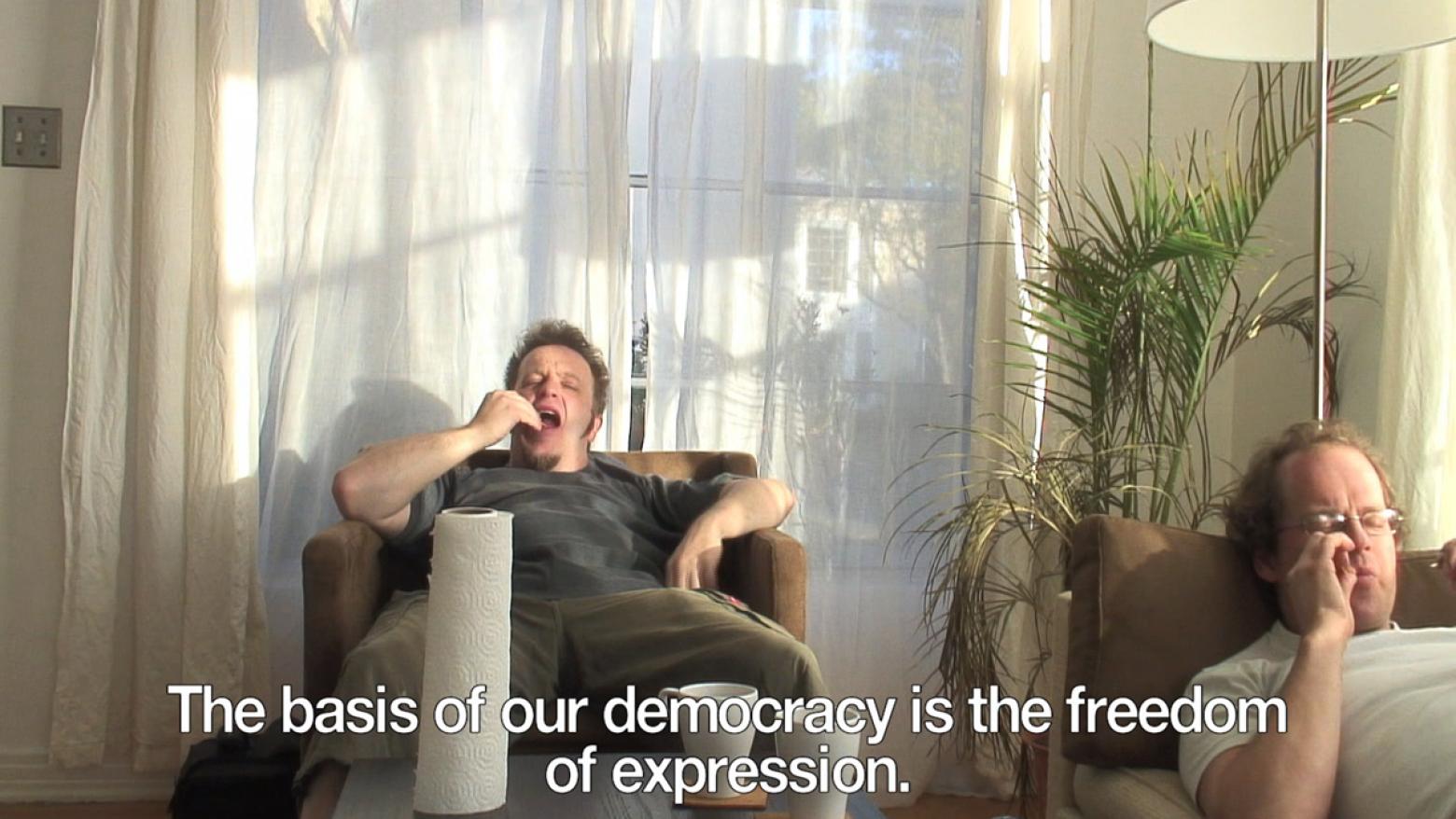 During December 2006 and January 2007 Erik van Lieshout spent eight weeks in Los Angeles as a Hammer artist in residence, accompanied by his friend, collaborator, and editor Core Vanderhoeven. Together the two men explored Los Angeles: visiting Marilyn Monroe's gravesite, searching for celebrities with a star map, going to Disneyland and Las Vegas, and dropping by the Crystal Cathedral, a Philip Johnson designed megachurch in Orange County. These travels, along with their drives between destinations and their daily life in a small Los Angeles apartment with ample cable television, were largely captured on video. The footage was edited into a new video, Guantánamo Baywatch (2007), in the Hammer Collection, and the first part of Homeland Security (2007), shot in Taos, New Mexico, and Israel. Together these two pieces make up a two-part study of the United States.
Van Lieshout and Vanderhoeven shot and edited the Guantánamo Baywatch (2007) footage the same day they shot it. The finished piece, along with a selection from the over forty drawings van Lieshout made while in Los Angeles were shown in a Hammer Projects exhibition in a makeshift theater built by the artist. According to van Lieshout, "it was very, very good to work in that short time, start editing at the same day what you filmed, and just throw it in the gallery, in the museum space." It was the first time he had worked in that way and it has become a method that he has tried again. Looking back more than two years after the residency he recalls the energy and fear arising from the truncated process, "I was super scared at the opening and everything because I never made a show in seven weeks. It was like, fucking scary. But it was a very good show."
Guantánamo Baywatch (2007) and Homeland Security (2007) have both been shown internationally, including at exhibitions at Kunsthaus Zürich, Lehnbachhaus Munich, the Walker Art Center in Minneapolis, and De Hallen Haarlem. The residency also laid the groundwork for an ongoing relationship with Los Angeles. During an interview in 2009 van Lieshout said, "L.A. is a very important city for me. I will come back a lot." Seven of the drawings he made while in Los Angeles are part of the Hammer Contemporary Collection and the acting classes van Lieshout took up halfway through his residency (which he described as "better than therapy") made a lasting impact and have become a big part of his as yet undisclosed new work.
The Hammer Museum's Artist Residency Program was initiated with funding from the Nimoy Foundation and is supported through a significant grant from the James Irvine Foundation.