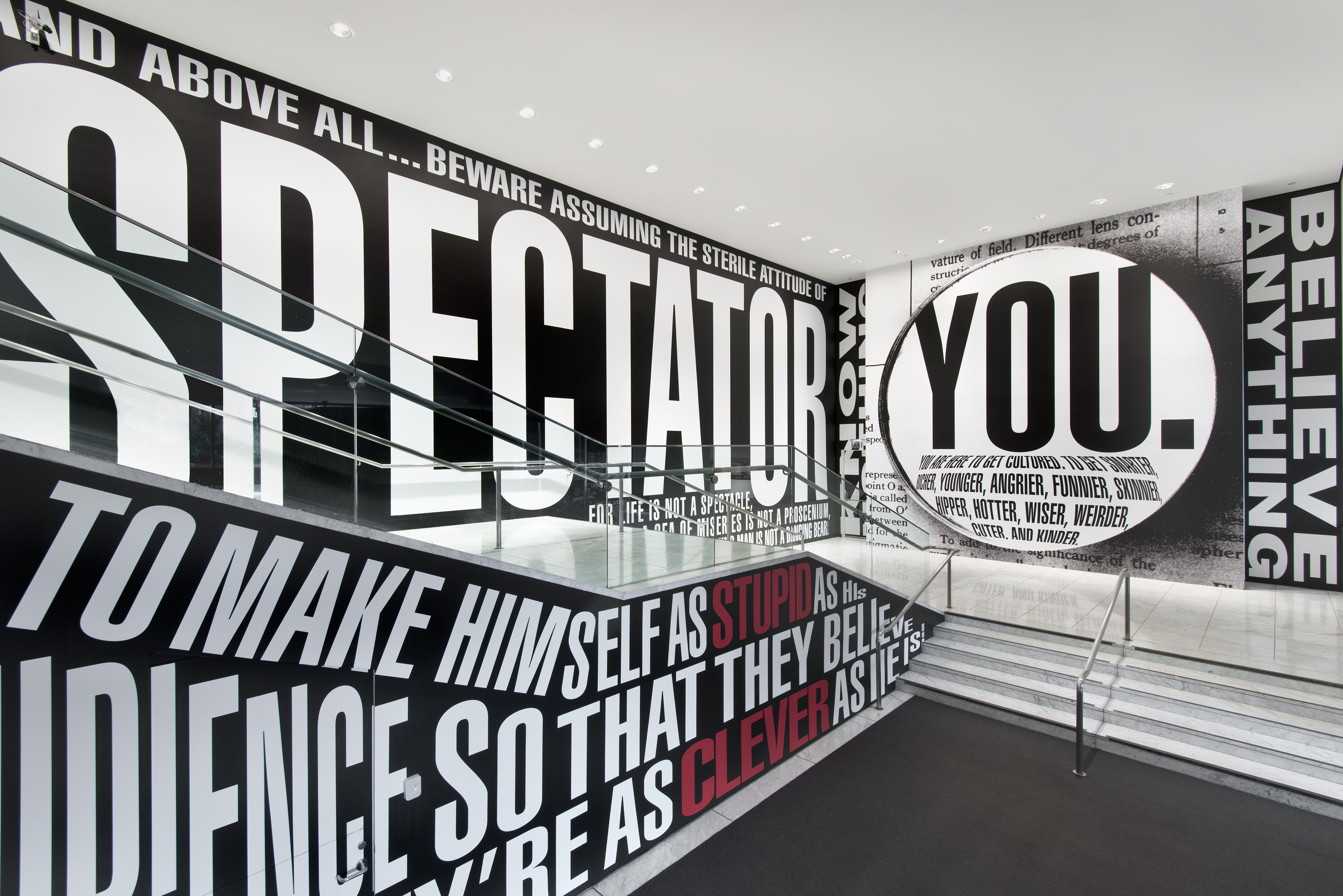 Barbara Kruger
Untitled (Hello/Goodbye),
2014
Medium: Digital print on vinyl
Dimensions: Dimensions variable
Credit Line: Courtesy of the artist. Installation view at the Hammer Museum, Los Angeles; photography by Brian Forrest

Early in her career, Barbara Kruger worked as a designer and editor for magazines, and in the late 1970s she began applying her graphic skills to create insightful and eye-catching photo-text collages. Employing montage tactics to bring together found images and concise yet hard-hitting texts, she has for many years tackled the stereotypes and clichés that shape our everyday lives. She has targeted the dictates of consumerism, patriarchal power, mass media, and high art, the very sites from which she has pilfered images, texts, and ideas. Kruger's signature red, white, and black graphic works have populated magazines, newspapers, art museums, billboards, the sides of buses, and an array of other public spaces to interrogate representation, power, and social exchange. In 1990 she began to create site-specific installations by adhering her imagery and her astute and increasingly cautionary pronouncements to architectural sites. Her installations have also incorporated video, often in the form of multichannel projections, heightening the capacity of the work to speak to the viewer. Kruger's interest in architecture not only takes into consideration how the body moves through space but also reveals how the built environment can be both pleasurable and controlling.

Untitled (Hello/Goodbye), a new work created especially for Take It or Leave It, covered several of the lobby's walls, including those facing the intersection of Wilshire and Westwood, interjecting and juxtaposing text to create an immersive and pulsating atmosphere. As is evident in this installation, the strategy of directly addressing viewers has long been a cornerstone of Kruger's practice. Her texts often employ personal pronouns such as you and I, which bring the spectator into the discursive and graphic space and underscore her ongoing evaluation of the role of the individual and the body in relationship to political and ideological institutions. In keeping with her long-standing commitment to deconstructing society's power structures, in Untitled (Hello/Goodbye), Kruger quotes the Austrian writer and satirist Karl Kraus on the tactics leaders use to maintain authority. Several texts take up the specific act of seeing, or of being a spectator, and encourage self-awareness. The large north wall borrows the poetics of Aimé Césaire, an important contributor to the discourse about cultural and racial identity and colonialism. Speaking simultaneously to both the individual and the collective, Kruger's installation was personal and public, welcoming and confrontational. Visitors were compelled to contend with her environment on numerous levels—intellectual, visual, and physical—and to reconsider the very act of visiting a museum.