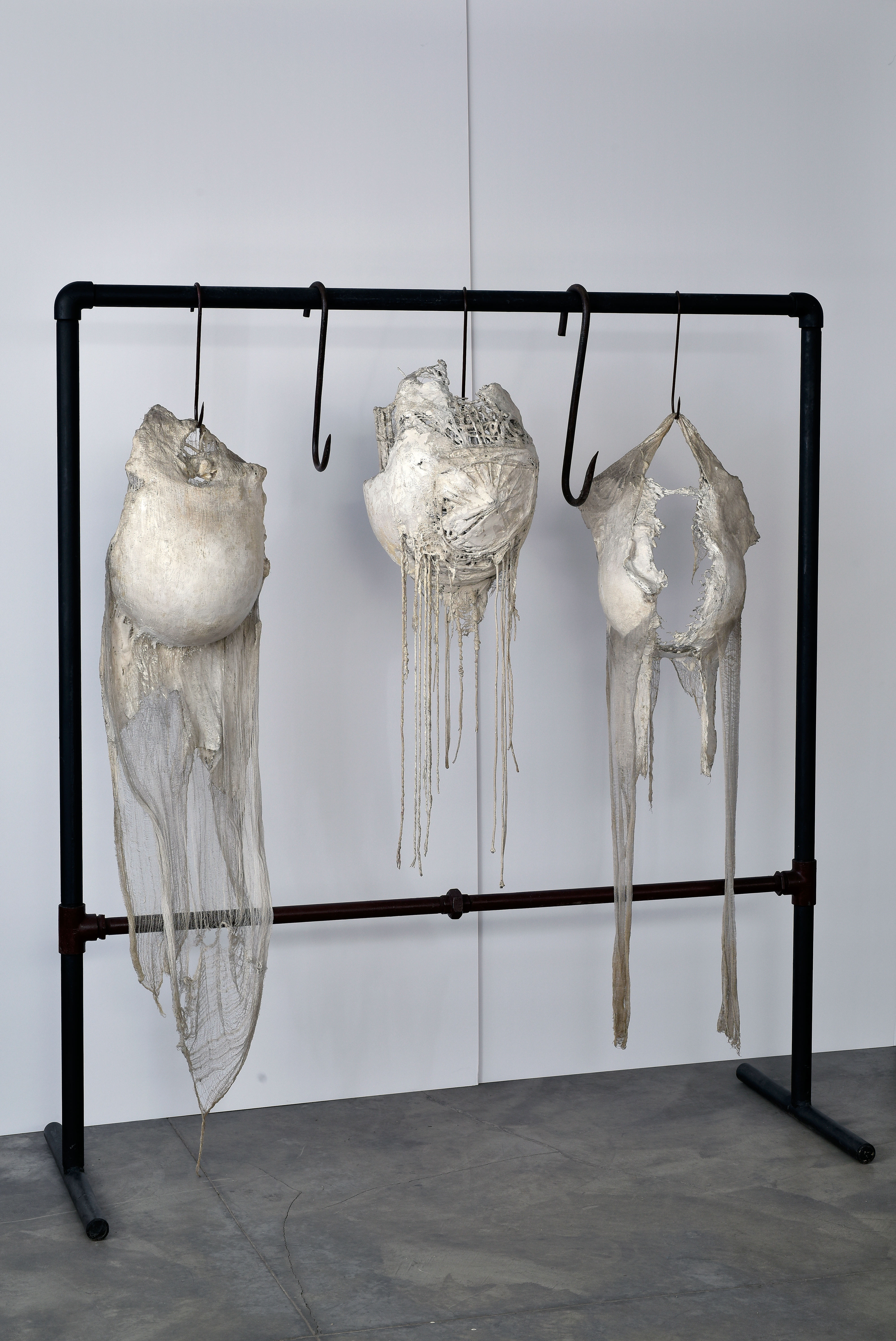 Johanna Hamann
Barrigas (Bellies),
1979-83
Medium: Metal structure, plaster, resin
Dimensions: 68 1/2 × 63 × 23 5/8 in. (174 × 160 × 60 cm)
Credit Line: Museo de Arte de Lima. Donated by the artist

Johanna Hamann's Barrigas addresses women's biological condition from a critical, raw, and destructuring perspective. If the masculine gaze and patriarchal society construct an idealized image of motherhood, this work confronts us with a vision of flesh and tissue that borders on the abject. The three open and seemingly decaying bellies hanging from hooks on an iron structure suggest torn tissue. Hamann's first solo show, which took place at Forum gallery in 1983, had major repercussions within the local art scene due to its visceral and crude exploration of motherhood. This work undeniably questions the place society and nature assign to woman, confining her to the role of mother. It evidences feelings of vulnerability and insecurity, frustration, and desperation never voiced for fear of social condemnation. Hamann's works from the 1980s and 1990s condense a latent sense of death and destruction as indirect effects of political violence.
Barrigas de Johanna Hamann aborda un tema vinculado a la condición biológica de la mujer pero desde una perspectiva crítica, cruda y desestructurante. Si el ojo masculino y la sociedad patriarcal habían representado la maternidad desde una perspectiva idealizada, esta obra nos confronta con una aproximación a la carne y el tejido que bordea lo abyecto. Los tres vientres abiertos, descarnados, que cuelgan de ganchos sobre una estructura de hierro, aluden al tejido desgarrado. La primera exposición individual de Hamann, en la galería Forum en 1983, tiene importantes repercusiones en la escena artística de Lima por su manera cruda y visceral de explorar la maternidad. Es una obra que cuestiona el lugar que la sociedad y la naturaleza asignan a la mujer, confinándola al rol de madre. La obra pone de manifiesto los sentimientos de vulnerabilidad, inseguridad, frustración y desesperación no dichos en voz alta por temor a la sanción social. Durante los años ochenta y noventa, su obra condensó la sensación latente de muerte y destrucción, efecto indirecto de la violencia política.