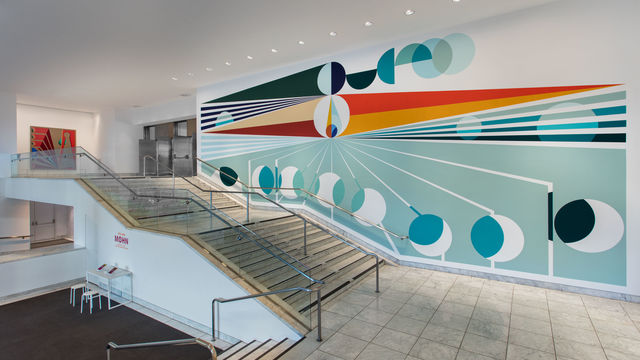 Eamon Ore-Giron's mural, Angelitos Negros, extends across the museum's walls, filling them with his characteristic abstract forms. Ore-Giron renders combinations of elemental shapes—circles, triangles, rectangles, and squares—in bright colors with luminous interlocking and overlapping passages. The artist draws his distinct visual vocabulary from geographically diverse sources that extend from the present to the ancient past.
Angelitos Negros is inspired by the poem Píntame angelitos negros (Paint me little black angels), written by the Venezuelan poet and politician, Andrés Eloy Blanco, in 1943. In it, the poet implores "the painter" to include angelitos negros, or black angels, in his religious works. The poem, which was adapted into a song in 1950, is a commentary on racial discrimination, written during the height of World War II. This lamentation on exclusion and erasure offers a poignant commentary on the long history and impact of colonialism in the Americas. The song, made famous in the United States by Eartha Kitt in 1953, has been performed widely by artists throughout Latin America and North America, including Pedro Infante, Los Pasteles Verdes, Celia Cruz, Roberta Flack, and, more recently, Cat Power. Ore-Giron is particularly interested in the many iterations the song has given rise to, attesting to its malleability and wide-ranging resonance across contexts. As a kind of Pan-American anthem, the song is an elegy for colonialism's attempts to eradicate the presence of African and indigenous cultures in the Americas. Contending with history and cross-cultural exchange, Angelitos Negros reclaims and reconfigures seemingly disparate visual histories—from Latin American muralism and modernist traditions of abstraction to indigenous imagery and patterning. Ore-Giron's mural offers the viewer "an epic angelito negro," as the artist has put it—a monument that resists omission and hierarchy and insists upon multiplicity and simultaneity.
Eamon Ore-Giron (b. 1973, Tucson, Arizona) works in the Angelino Heights neighborhood of Los Angeles. Ore-Giron received his BFA at San Francisco Art Institute, in 1996, and MFA from University of California, Los Angeles, in 2006. He was a member of the collective OJO, which was active from 2004 to 2013, with artists Brenna Youngblood, Joshua Aster, Justin Cole, and several others. He has exhibited and performed at the Whitney Biennial, New York (2017); Ballroom Marfa, Texas (2017); LAXART, Los Angeles (2015); Prospect 3, New Orleans (2014); Perez Art Museum, Miami (2013); Museo Rufino Tamayo, Mexico City (2009); Museum of Contemporary Art, Los Angeles (2008); and Los Angeles County Museum of Art (2008), among others.