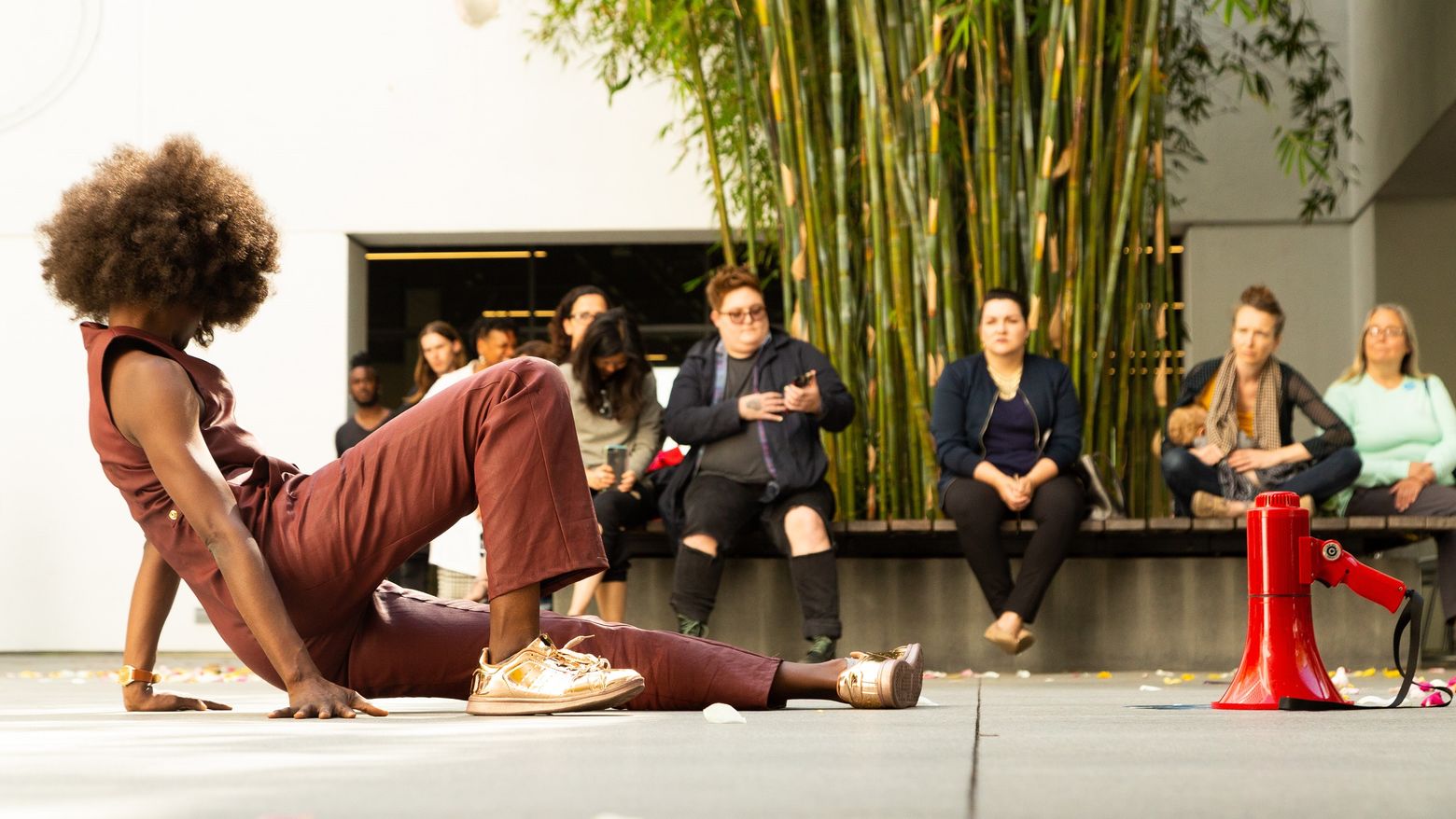 Artist Profiles
Learn more about the artists who have been a part of exhibitions, projects, and residencies at the Hammer through these insightful interviews and profiles.
Looking for more? Check out our YouTube channel for additional videos and playlists.
You can also watch recordings of our public programs.
Kenzi Shiokava's work revolves around two very different sculptural forms, wood carving and assemblage. Together each tradition bookends an art historical narrative, whose opposing poles are the sacred and the profane.
As part of Made in L.A. 2018, Eamon Ore-Giron's mural, Angelitos Negros, extended across the museum's walls, filling them with his characteristic abstract forms.
For California Flora (National Forest Condensation Wall), Sam Falls traveled to all 19 National Forests in California to depict the state's flora.
Kevin Beasley's 2017 Hammer Project is a contemporary interpretation of Bernini's 17th-century Baroque altarpiece in Saint Peter's Basilica. Beasley replaces Saint Peter's chair with a wicker "peacock" chair, iconized after Black Panther Party founder Huey P. Newton was photographed seated in one.
Tschabalala Self sits down to talk about her project Bodega Run, which examines the neighborhood convenience store as both a gathering place for community and a microcosm of how current economic and political issues are impacting people's lives.
In dialogue with her Made in L.A. 2018 installation, artist taisha paggett presented a series of solo and duet dances. Engaging ideas of race, history, and institutional representation, these durational actions consider the liberatory potential of Black and brown bodies moving within the galleries and beyond.
Chief preparator Jason Pugh cooks up two eggs for Sarah Lucas's Two Fried Eggs and a Kebab, part of the 2019 exhibition Sarah Lucas: Au Naturel.
Mining his personal history and cultural identity, Petrit Halilaj constructs whimsical worlds inhabited by fantastical creatures and reimagined relics.
In 2014, The Hammer Museum welcomed four highly respected Tibetan Buddhist monks to create an elaborate sand mandala in the lobby gallery.
Paper is central to artist Zarina's practice, both as a surface to print on and as a material with its own properties and history. The concept of home-whether personal, geographic, national, spiritual, or familial-resonates throughout her retrospective, Zarina: Paper Like Skin.
Artist and composer Aaron Taylor Kuffner installed a kinetic sculpture, inspired by traditional Indonesian Gamelan, at the Hammer in 2017. Learn more about Kuffner's Gamelatron Sanctuary.